Land of secluded beaches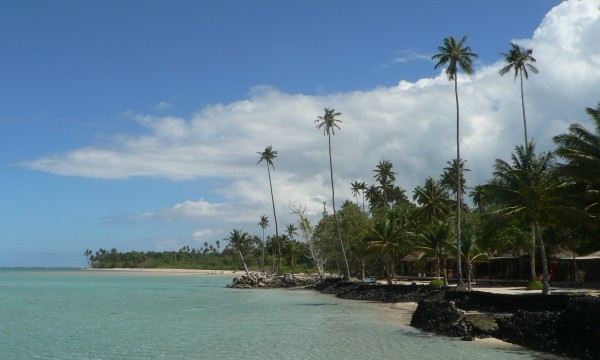 Located on the westerly end of the Samoan Archipelago, Samoa is halfway between Hawaii and New Zealand. Its natural wonders include waterfalls, mountains, volcanoes and miles of beaches. The islands have a living culture, fa'a Samoa, (the Samoan Way), that centres around the family unit and love and respect for all.
Although Savaii is the largest island of the Samoan archipelago, the capital, Apia is on the more populated island of Upolu. It is also the seat of government and centre of commerce. Savaii is dotted with secluded beaches and crowned at the centre by the 1858 metre Mt Silisili.
Samoans are the largest group of full-blooded Polynesians in the world and have retained much of their ancient culture. Traditional tattooing is an intricate art of Samoa and young Samoans are tattooed with complex symbolic designs from the lower chest to the knees. Samoan is the native language, however English is widely spoken.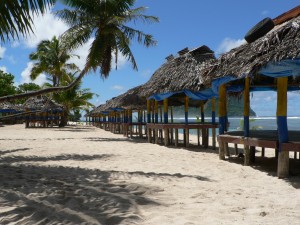 These islands were first settled about 1000 BC and are accepted as the heart of the Polynesian culture. In 1768, French navigator Louis de Bougainville sighted Samoa and called them 'The Navigator Islands' because of the many Samoans sailing small canoes far from the sight of land.
During the 18th century, vast plantations producing copra and cotton were developed for export and Apia became a major commercial centre in the South Pacific. Samoa was annexed by Germany from 1899 to 1914 and then by New Zealand from 1914 until 1962, when Western Samoa finally gained self government. The 'Western' was dropped from its name in 1997.
Beautiful fauna and flora are found on both islands. Savaii in particular, has lush tropical rainforests housing many exotic bird species. Conservation organisations provide funding to ensure the rainforests at Tafua and Falealupo on Savaii are protected and maintained.
The Scottish writer, Robert Louis Stevenson brought his family to live on Upolu in 1890 and built a large home in the foothills above Apia, where he spent the last five years of his life. Stevenson was known as 'Tusitala' (the storyteller) and he is buried on the crest of Mt Vaea. His home is now a magnificent museum.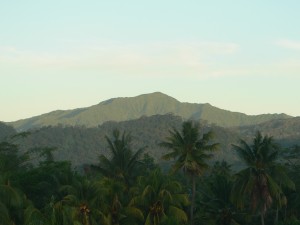 Other places to visit include the Tiavi Falls, the O Le Pupu Pu'e National Park and Papaseea with its smooth rocks which are fun to slide down and swim in the pools beneath.
Also worth seeing is Piula Cave pool in the grounds of the Methodist Theological College. It's an oval-shaped natural pool filled with cool spring water flowing from a cave beneath the church.
Accommodation ranges from international standard to traditional fales (bungalows). Villagers will negotiate private rates as well as home accommodation for budget travellers.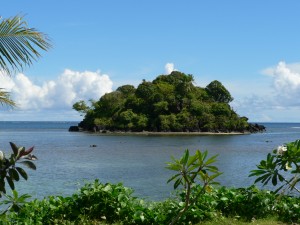 The two islands have more than 1800 kilometres of road between them. In Apia there are taxis and rental cars available. Most rental companies offer a free pick up and delivery service to hotels.
There are two options for island hopping. Flights between Apia and Savaii leave daily and take only a few minutes. To go by ferry takes around two hours.
The main hotels have restaurants and Samoan feasts or 'Fiafia' nights are held at most of the larger resorts on a weekly basis. For a delicious range of seafood, head to Swashbucklers restaurant at the Apia Yacht Club which offers great views of Apia harbour.
Sporting facilities are mainly located in Apia. They include the Royal Samoa Golf Country Club, public tennis courts, squash, lawn bowls, hockey, netball, rugby, soccer, and Samoan cricket. There are also numerous marine activities including swimming, snorkelling and diving.
A wide variety of goods made by Samoan families for their personal use are also sold to visitors because of the beauty and quality of the craftsmanship. Siapo (tapa) cloth made from the mulberry bark and painted with native dyes is made into mats, hats and baskets. Kava and food bowls are hand carved from native hardwood. Shell jewellery and printed fabrics are also available.
This piece first appeared in Pacific Island Paradises Magazine.